1. General FAQ
What can you do for my company?

Many things! In a nutshell, we create marketing/promo materials for print, web, video; separately or in campaign as well.

PRINT: We can design (or re-design) your logo, brochures, flyers, packagings, stationery, etc.

WEB: We can design and build you website, flash banners, interactive flash solutions, newsletters, etc.

VIDEO: We can design and build your TV Ad, promo, corporate video (with VO and original music), and much more.

How much time will a project take?

We are fast, but don't like rush. Here is a general guide for minimum project timings - from start to delivery.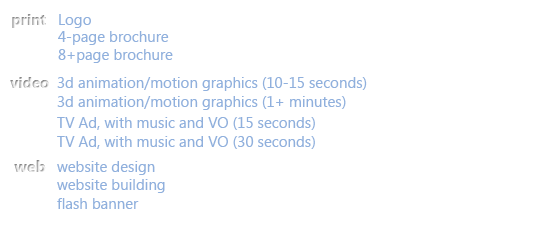 How much money will a project take?

Every project is different. We work with hourly rates and by giving estimates for each project prior to starting, once we know
sufficient information on the tasks.

You can get a rough picture of the costs of our previous projects by clicking on the price ranges in the footer categories.

If you'd like to receive an estimate from us, please shoot us a mail to

hello@missingcloud.com

with the brief/project info, and we'll try our

best to send you a good one asap (usually within 1-2 business days).
2. Operations FAQ
How do you charge?

Flexible & Hourly

Due to the often service-like nature of graphic design, video and animation productions we

charge by the hour

.

Nevertheless you can still assign a fixed budget for each project or task, and we'll use our hourly rates to calculate how much work-hours would be included in it.

Scoping

After sharing the details of the project, you'll receive an

estimate

from us containing the hours we think will be needed to complete the tasks in the project.

We're proud that we've delivered ~95% of our projects with using less hours than what was estimated.

(The remaining ~5% were projects where creative direction or needs changed pretty much during production - needing to add more of our hours.)

Tracking & Reporting

We are subscribed to and use

Freckle

to do time-tracking, and we send regular status reports of the used number of hours via email once the project is running.

(But let us know please if you have a shared, already set-up platform to manage/monitor status reports, used hours, etc.)

Invoices & Payments

We require a completed

upfront payment

prior to starting working on the project.

The amount of the upfront payment is at least 20%, but also depends on the project's specifications and details.

Also heavily depending on the size, type and schedule of the project, we invoice using every 10(-40) work-hours.

We're fast, but don't like rush.

For rush projects or rush tasks we charge extra.

Family-time

For work required to do during our weekend (which is starting from our Friday evening to our Monday morning), we charge +50% - that is,

if we're available on that specific weekend. Check out the "What's your availability" FAQ below to get to know a bit more on this topic.

Cash-flow of a small, flexible business

The needs of our cash-flow can't tolerate 30-days processing times (plus paypal and other processing stages adding time) for our invoices.

If you are not able to settle our invoices within 1-8 days, and don't share this information with us about it prior to a project start, it will cause issues for the workflow and focusing, so please let us know upfront how fast you can process payments.
What is your availability?

We usually work from 9am to 5pm,

Central European Time (CET)

, but since we deliver globally,

we do have minor limitations if you're in a very different timezone. These are the following.

If you're in

Australia, NZ, Singapore

or in similar timezone, please note that we will not be available for work on (and can't schedule delivery to) your Monday daytime, which is our Sunday evening.

If you're in the

USA, South-America

or in similar timezone please note that we will not be available on your (and can't schedule delivery to) your Friday daytime, which is our Friday evening.

These does not mean we do not work on our Friday or Monday daytime, these just mean we can't work during yours, so please schedule projects accordingly.

A cool time-zone tool can be found here:

http://www.everytimezone.com/

. Look for Vienna, that's our time-zone.

For consulting, meetings, and work done for qualified clients or rush projects we can be very flexible.
3. Video FAQ
Need help starting a video project?

No worries!

We've built a

video checklist

just for you.

It should make your first video steps a lot easier by organizing your thoughts.

It might take about 15 mins to do, but not only will you leave more organized knowing what you really want,

we'll also review your results if needed and provide you with a production estimate.

Start your video project here:

http://www.missingcloud.com/videochecklist/