Project Description
Client: Szallas.hu | Creation time: 4 weeks

We were asked by the leading Hungarian online accommodation booking service "Szallas.hu" to develop an animated video advertisement (that should be somewhere between 15-30 seconds) for general and campaign-oriented marketing purposes.
The base concept and the narration copy was provided to us by our client (with a few iterations on-the-go).
We proposed a photo-based approach for the backgrounds behind animated characters, and used our very own character animation template to speed things up regarding work on characters.
Here are the things/tasks that was up to us to develop and finalize:
– visual and animation concepts for all 8 scenes
– creating draft animations (aka animatics)
– screens/compositions and transitions
– photo suggestions for the backgrounds
– photo treatments
– 4 characters designs and their rigging/animation
– prop designs
– timings/pacing of visuals
– music selection and editing
– creating temporary narration (before our client recorded the final narration with a studio)
– final narration editing/timing
– sound effects sourcing and implementation
– audio mastering
– creation of unique thumbnails
For A/B testing purposes, we prepared 2 versions by request: one in which the head of the mom character blows off in the first scene, and one in which she simply looks depressed there instead.
We also exported an animated gif for social media use: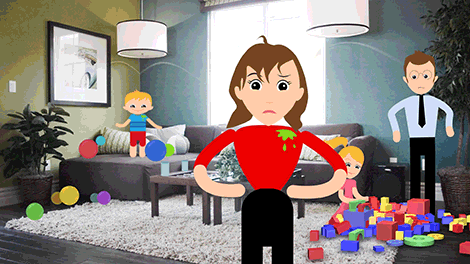 Thanks to the great collaboration and communication between our client and us, the development of the video and additional elements were very smooth.

If you also think that your potential customers and your business deserve at least one great online video or animation, let's talk and let's find the right style, messages and other parameters for your needs.