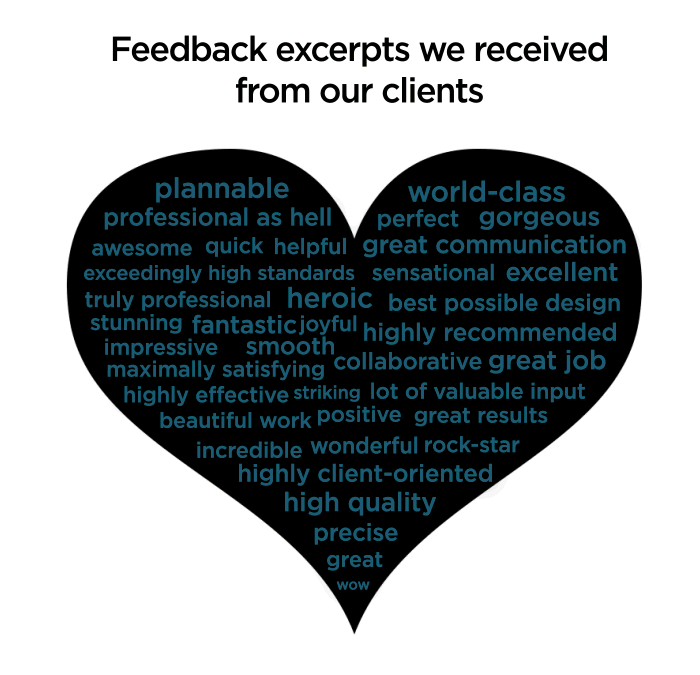 "The development process was precise and plannable, this is what I liked the most."
"You helped the project with creative ideas, quick and precise development."
"Everything was very professional, and in-line with the initial plans."
"In a nutshell: pure professionalism!"
"Their motion graphics skills are truly world-class."
The collaboration was quick, precise and smooth."
"We want to appreciate your professional work and its quality for the projects you've done for us. We've enjoyed working with you very much."
"Missing Cloud worked quickly and the end product was very professional. Everything was great!"
"The Missing Cloud crew went above and beyond to deliver a stunning animation. Communication was great and met the tight deadline. Thank you!"
"I had an excellent experience working with Attila and the work was of a high quality. I wouldn't hesitate to recommend him to others."
"Professional, to-the-point, flexible. We had a quality video material made for our application…"
"Smooth and professional – it's nice working with you."
"The team of Missing Cloud offered an exemplary service being effective, smooth. It was a pleasure to work with you."
Please note that some Hungarian testimonials above were translated to English.
Types of companies we worked with so far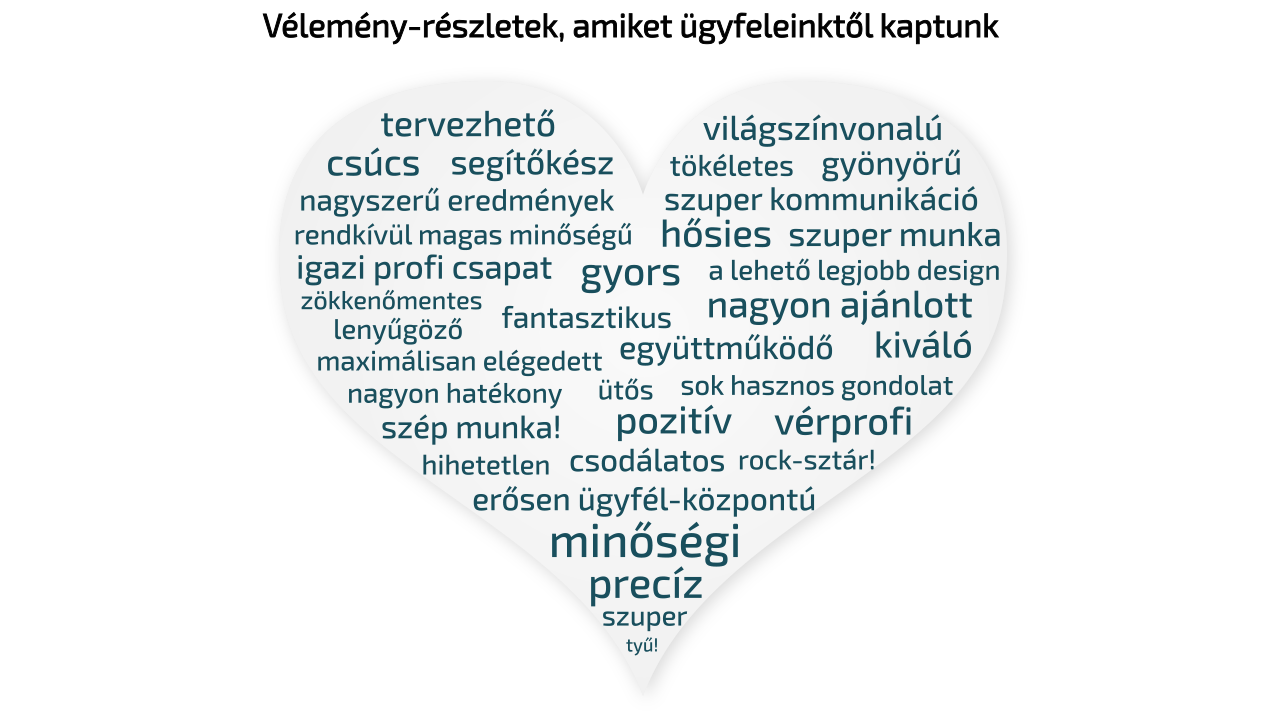 "Ha azt mondom, hogy a project akkor állt, amikor Ă©n rám várt, akkor azzal jĂłl elmondom, hogy mennyire precĂ­z Ă©s tervezhetĹ' volt a folyamat. Nekem ez tetszett benne a legjobban. "
"KreatĂ­v ötletekkel, gyors Ă©s precĂ­z megvalĂłsĂ­tással segĂ­tettĂ©tek a projektet."
"Profin ment minden, az eredeti tervek szerint."
"Egy szĂłban: vĂ©rprofi. Szűkös határidĹ'vel kellett nekĂĽnk egy videĂł egy versenyhez, Ă©s a kapcsolatfelvĂ©tel után nagyon gyorsan kĂ©sz volt már az elsĹ' verziĂł. "
"A csapat mozgĂłkĂ©pes/animáciĂłs kĂ©pessĂ©gei abszolĂşt világszintűek."
Az egyĂĽttműködĂ©s gyors, precĂ­z, zökkenĹ'mentes volt."
"SzeretnĂ©nk megköszönni a professzionális munkát Ă©s annak minĹ'sĂ©gĂ©t a projektjeink során. Nagyon Ă©lveztĂĽnk veletek dolgozni."
"A Missing Cloud gyorsan dolgozott Ă©s a vĂ©geredmĂ©ny profi lett. Minden nagyszerű volt!"
"A Missing Cloud csapata mindent megmozgatott hogy döbbenetesen jĂł animáciĂłt szállĂ­tson. A kommunikáciĂł nagyszerű volt Ă©s a projekt szűk határidejĂ©t is tartották. KöszönjĂĽk!"
"KiválĂł tapasztalatokat szereztem a közös munka során, a vĂ©geredmĂ©ny is magas minĹ'sĂ©get kĂ©pvisel. Nem habozok másoknak is ajánlani."
"Profi, lĂ©nyegretörĹ', rugalmas. MinĹ'sĂ©gi videĂł anyagunk lett az alkalmazásrĂłl…"
"GördĂĽlĂ©keny Ă©s profi – jĂł veletek dolgozni."
"A Missing Cloud csapatával pĂ©ldamutatĂłan gördĂĽlĂ©keny Ă©s eredmĂ©nyes volt az egyĂĽttműködĂ©s. Ă–röm volt (Ă©s remĂ©lem lesz) Veletek dolgozni."


A fentebb találhatĂł vĂ©lemĂ©nyek nĂ©melyikĂ©t – az eredetileg angol nyelvűeket – magyarra fordĂ­tottuk.
Kikkel dolgoztunk idáig?