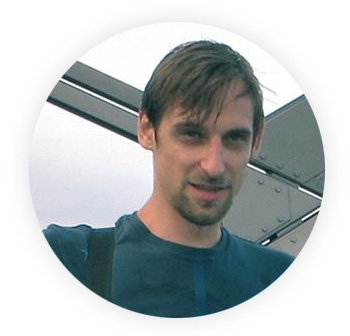 Attila Kristo – Co-Founder CEO, Motion Graphic Designer/Producer
Born: 1981
Professional Experience: 14 years
Before Missing Cloud: Department lead at an integrated communication studio/agency
Interests: Design, (2d/3d) Animation, Marketing, Project/Process Management, Startups, Technology, Scifi Movies/Books

Attila has been creating stories using visuals since before he could write, drawing his first longer comics at the age of 6. Fast forward a few years and he had a single comics made of thousands of frames, even creating comics for history class, to help learning – and to make friends laugh (well, this was the main reason). Add technology and multimedia orientation to this visual/storytelling passion, and you can understand why he started to use computers (starting with plus4 and c64) to mix these interest: eventually arriving at video-producing, 2d and 3d animation and visual effects.
After finishing Art High School (graphic section), Attila went on to learn Art, Art History and English at the teacher training University of Szeged. But educating was in his blood already, with both parents having been university teachers and lecturers.
Some freelancing and even more multimedia learning followed.
At the age of 25, having the necessary design, English, multimedia and people skills, he started working at a mid-sized, local communication studio, which in a few years grew to be one of the largest in Hungary. Attila helped to create an animation department and soon became department lead: managing assigned clients, delivering for international projects, directing a team both creatively and technically, ensuring that the work met the in-house requirements, industry standards, and that the clients were happy with the results. These were intensive years of learning about everything (apart from his core professions): processes, management, marketing, communication, leadership, reliability, duty and growth.
It was there he met Lilla again (they knew each other since high school), where she was senior art director and design department lead already. Since they got along so well (professionally and on a personal level too), they developed a dream of becoming part of something that can grow with them: and eventually, together they founded Missing Cloud, their global creative studio in 2010, so that they could serve more people and organizations, adding more value and focus to their projects.
Attila now helps clients of Missing Cloud to make (or make better) video and animation content using all of his skills and experience, and when needed – their professional (media production/creative/marketing) network.
Check Attila's Linkedin profile here.